Laura McCaffrey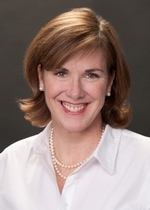 Selling your home can be a major life event, where emotions and business decisions are often at cross purposes.  For this reason, sellers need a true professional who will expertly navigate you through the process with insight about the market, listening skills and the willingness and ability to meet your specific needs.  I am that person.  I am an expert at pricing and preparing homes correctly, marketing successfully, negotiating with the best interests of my clients in mind, and bringing sales to a successful completion.  I work hand in hand with you the seller until we are successful.
I joined Evers & Co. Real Estate, because it is one of the finest real estate firms in the Metropolitan area. The Evers & Co. commitment to excellence is exemplified by personal attention to its clientele, a generous advertising budget for marketing properties and its track record of continually out-performing the market. The company's reputation speaks for itself - over 80% of Evers & Co.'s business comes from referrals. As a full time realtor in the top 1% of sales nationwide, I offer you proven results, experience and my personal dedication to you, making your home sale a success.
I was born and raised in Scarsdale, New York, and am number six in a family line of seven children.  In 1985, I graduated with a degree in Economics from Trinity College in Washington, DC.  After graduation, I worked as a product manager with the AMC in New York, developing private label programs for women's sportswear.  I traveled throughout the Far East and India, working with manufacturers, negotiating prices, and finalizing the details of the clothing lines.  In 1991, I earned a BSN, from The Catholic University of America School of Nursing. I graduated with honors and worked at Sibley Hospital until spring of 2008. 
I began my real estate career in 2005.  With a unique background in both corporate and medical fields, I bring professionalism, compassion, and enthusiasm to all of my real estate endeavors.  "Laura is the consummate professional; her energy, enthusiasm and devotion to her clients is the goal that all of us work for." says Donna Evers, owner and broker of Evers & Co.  Having lived in the twin suburbs: Chevy Chase, Maryland and DC for the last 28 years, I know these areas intimately and have a strong presence as both a listing agent and buyer's agent. I live in Chevy Chase with my husband  Mark and our 4 children: Jane 21, Billy 20, Tess 17, and Maeve 16.
Laura McCaffrey 's Listings