Carole Evans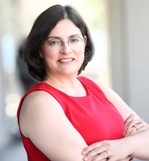 Carole Tafoya Evans is pleased to be affiliated with Evers & Co. Real Estate, A Long & Foster Company, a renowned boutique company within the most successful major real estate firm in the Metro area. As a professional musician for the past 30 years, Carole is accustomed to continually perfecting her skills and collaborating with her associates. She loves making new connections and sharing her knowledge of the beautiful neighborhoods in our Metro area. Carole enjoys helping people reach their goals and looks forward to helping clients sell their homes in an optimum situation and giving buyers the knowledge and support they need to find exactly the right place.
Carole was born in Evanston, Illinois and raised in St. Louis, Missouri. She has lived in Washington, DC since 1998, and she and her husband Mark are both musicians in the National Symphony Orchestra- Carole is a violinist and Mark is a cellist. As a part of Carole's desire to contribute to the Upper Northwest neighborhood where she lives, she organizes the annual benefit concerts for Friendship Place, a non-profit organization helping homeless citizens acquire permanent housing and rebuild their lives. Carole is also an avid teacher and coach in her private studio and for the NSO's Fellowship Program and Summer Music Institute. She holds both Bachelor and Master of Music degrees from Indiana University Jacobs School of Music, where she held a Graduate Teaching Assistantship and studied with Yuval Yaron and the legendary Josef Gingold.
Carole loves her home in Chevy Chase, DC, where she lives with her husband, Mark, their daughter Abby, who is a student at School Without Walls High School, and their two shelties, Tyler and Casey.
Because Carole believes everyone deserves a home, she is committed to donating 3% of her commission earnings to Friendship Place and their mission to end homelessness in the DC area.